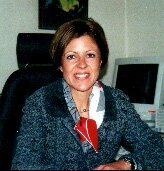 Carmen Luz Guarda, in her office at the WTO in Geneva
Least-developed countries (LDCs) account for a fraction of one percent of world exports and their share has deteriorated even further in recent years. This is paradoxical given the trade preferences LDCs enjoy in developed - and certain developing - country markets. The obvious question therefore is whether there are other measures that could help LDCs to better take advantage of the market access opportunities available to them.
Yes, responds Ms. Guarda, and is quick to highlight some of the findings of a WTO Secretariat 1998 study, undertaken in the context of the Sub-Committee on Least-Developed Countries. Factors that impede LDCs' exports may be categorized into two groups 1) market access barriers and 2) supply-side obstacles to the utilisation of market access. "Improvements in these two elements would lead to better market access opportunities for LDCs".
On market access barriers, she identifies, inter alia, conditions attached to preferential schemes, non-harmonised rules of origin, quotas, tariff rate quotas, non-automatic import licensing, product standards, testing and certification, packaging and labelling requirements, sanitary and phytosanitary restrictions and trade distortions in third markets, such as subsidies given to agricultural and fish products which either depress world market prices or displace them from other markets through unfair competition. In addition, another factor is lack of information on market access opportunities, due to limited access to modern communications or due to lack of expertise and sources of information on specific product-related issues.
As to the supply-side constraints, the present economic environment in many LDCs (market instability, inconvertibility of local currency, exchange rate fluctuations, high fiscal deficits, among others) does not promote productive efficiency nor foreign investment.Inadequate and obsolete infrastructure of roads, ports, transportation, telecommunications and power supply, also affects production and export capacities. Other factors that hamper export capacity include lack of skilled human resources, weak domestic regulatory environment, fragile institutions, and difficulties in achieving economies of scale in the export process (for example, high freight costs, difficulties in trade financing). "All of these supply-side constraints limit the necessary diversification of exports and impede the development from a commodity export base to a high quality export base of products with added value".
Ms. Guarda also stresses the importance of South-South trade to the economic development of LDCs. Trading opportunities with neighbours are as significant as with the larger multilateral context. The evidence suggests that further improvements are possible for LDCs in this regard. Hence, the regional context is vital for LDCs' trade integration. "LDCs have recognized the benefits of taking part in regional free trade areas or customs unions in an effort to create better market access neighbouring countries, and are participating in them and making efforts to improve regional trading arrangements".
MICRO-PORTRAIT



Name:
Carmen Luz Guarda
Current offices:
- Director, Market Access Division of the World Trade Organization (WTO). The Division deals with the Council for Trade in Goods, trade facilitation; non-agricultural tariff matters, and the operation of the WTO Agreements on: Customs Valuation, Import Licensing, Preshipment Inspection, Rules of Origin and the Information Technology Agreement.
Studies:
- Graduate of the Catholic University of Chile. Obtained professional title of Commercial Engineer in 1975, with specialization in Economics
<![if !supportLineBreakNewLine]>
Career path:
- Director for Multilateral Economic Affairs, Santiago, Chile (1985-87)
- Minister Counselor to the Mission in Geneva (1987-90)
- Deputy-Director for the North American region in the Economic Affairs Section of the Ministry of Foreign Affairs (1991-93)
- Ambassador of Chile to the WTO (1996-2001). Inter alia, chaired the TRIPS Council and the Committee on Technical Barriers to Trade; discussant at the trade policy reviews of the European Communities, US and Dominican Republic; also chaired two dispute settlement panels.
Coming from an export oriented country and having been in central positions during the period of trade liberalisation in Chile, Ms. Guarda brings to the WTO hands-on experience on the wide range of issues dealt with by the Market Access Division.